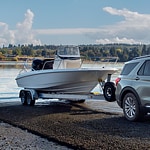 When you are in the market for a popular three-row SUV, take a look at the new Ford Explorer. This innovative and powerful vehicle is ideal for family driving or anytime that you want a vehicle that can perform well in even the most challenging of road environments.
It gets its power in part from its innovative rear-wheel drive. The rear-wheel drive gives the back wheels the power to propel the Explorer in tough road conditions like snow and ice. It shifts power away the front and makes the SUV easier to handle so you avoid slide-offs and fishtailing. The new Explorer also comes standard with sidewind stabilization. This feature is particularly important when you are driving in high winds. It prevents wind gusts from blowing you off the road. You can stay in your lane of traffic better.
The Explorer even has a push button start. This feature makes it easy to start up and drive your new SUV.