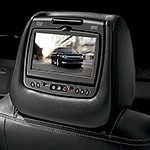 Three-row midsize SUVs are classic crowd-pleasers, helping you haul groups of people and cargo around Bedford Hills or on the road for weekend adventures. In addition to roominess and power, next-gen SUVs also boast a heap of trend-forward technology features. Ford Flex, a very popular three-row midsize SUV, has stellar technology features to its credit.
Forward Collision Warning
Forward Collision Warning is one of Ford Flex's many impressive technology features. The system issues warnings for potential frontal collisions, even gong so far as to brake automatically if driver reflexes don't react in time.
The Famous EcoBoost V6
Peek under Ford Flex's hood and you'll find the source of its immense power. Its legendary EcoBoost engine combines direct fuel injection and turbocharging for ridiculously high horsepower and torque. Plus, the engine continues functioning at max capacity even under stress, meaning you can tow and haul the family, gear and cargo without worries about loss of efficiency and handling.
Visit Arroway Ford today for a Ford Flex test drive. We look forward to meeting you.