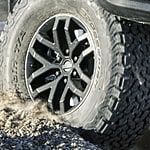 Ford's F-150 was already the best-selling truck in North America. They are known for their amazing performance, off-road capabilities and ability to haul or tow. The Raptor models take the performance capabilities of the F-150 up to another level.
Here at Arroway Ford, we want all Ford fans in the Bedford Hills area to be aware of the Raptor's performance features. The greatest feature is perhaps the amazing engine. The Raptor is powered by a 3.5-liter V6 with 24 valves and twin turbochargers. This power plant can crank out 450 horsepower with 510 pound-feet of torque. According to Ford, those are best-in-class numbers.
When it comes to off-road performance, the Raptor is hard to beat. One of the performance features that aid the Raptor in this category is Ford's Trail Control. This system works like a cruise control for rough terrain with poor traction. It controls speed, braking and torque distribution.