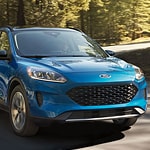 If you're torn between getting a car or an SUV and are having difficulty deciding, you may want to consider the Ford Escape, a popular compact SUV. The Ford Escape offers the comfortable ride and economy of a car with the performance and room of an SUV. What it's known most for are its many convenience features. If you want to know more, come visit us at Arroway Ford.
The Ford Escape is the perfect answer to how to get through our busy lives with as much convenience as possible. For a compact SUV, it offers more than enough cargo space and extra legroom. The foot-activated liftgate allows you to open the liftgate without ever using your hands.
Why not pay us a visit at our dealership in Bedford Hills so we can show you everything the Ford Escape has to offer in the way of convenience and comfort. We also invite you to take the Escape out for a test drive.