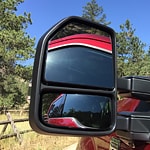 When it comes to a heavy-duty truck, you want to make sure that you have a truck that can keep up with you. That's why the Ford Super Duty is such a popular choice. Here's a look at what makes the Super Duty a durability leader.
The Super Duty has been tested for over 20 million miles. That includes testing the Super Duty in some of the most intense environments. The Super Duty has been testing in snow, mud, gravel, dust, water and more. To put it quite simply, this truck was put through the most intense situations possible. To ensure that the Ford Super Duty will last, this truck was intentionally tested with broken and worn parts. This is to ensure that the Super Duty will be able to continue to function even when it has long numbers on the odometers.
Get a firsthand look at the Ford Super Duty. Arroway Ford invites you to take a test drive today.