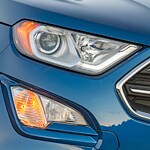 When it comes to affordable capability, the Ford EcoSport delivers what you need. That's why the EcoSport is the popular choice for so many SUV fans. Here is a look at some of the EcoSport's top capability features.
You want to make sure that your compact SUV can have the traction and control to handle any road condition. With the EcoSport's available Intelligent 4 Wheel Drive, you get confident power delivered to all four wheels. Need to make sure that you are getting top fuel efficiency? Then you'll appreciate the EcoSport's standard Stop-and-Go technology. When your vehicle is at a stop, the engine turns itself off. When you begin to move, the EcoSport's engine turns itself back on.
See why more and more people are getting into the EcoSport. Take a test drive today at Arroway Ford. We can offer you some amazing discounts on the Ford EcoSport of your choice.