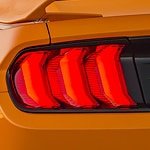 Would you like to get behind the wheel of the Ford Mustang in Bedford Hills? This sports car is in demand at Arroway Ford because it offers superior handling and performance with advanced features.
The Mustang has numerous brake options that all offer exceptional stopping capability. If you opt for the GT Performance Package, the Mustang is equipped with six-piston Brembo calipers with 15-inch vented rotors in the front and 13-inch rotors in the rear. The GT models without this package come with four-piston calipers with 14-inch rotors in the front and 13-inch rotors at the back. These brakes are also featured with the EcoBoost Performance Package.
Selectable Electric Power-Assisted Steering is featured with the Mustang. You can tweak steering control with Comfort, Normal, and Sport. Comfort is ideal for everyday driving and requires little steering effort, Sport requires an increased steering effort, and Normal is a combination of both. The Mustang also has an independent rear suspension to reduce body roll for a more responsive ride.